Action-oriented learning in an innovative and close-knit environment
An action-oriented approach,
and project-based learning in accordance with the European Framework of Reference for Languages (CEFRL): completion of linguistic tasks involving language communication leading to more complex group projects. Communication is at the service of action and gives it meaning: learning to take action and taking action to learn.
A close-knit learning environment
focused on a close teacher/student relationship, and a comprehensive and personalised approach to students in all three dimensions: academic, personal and professional.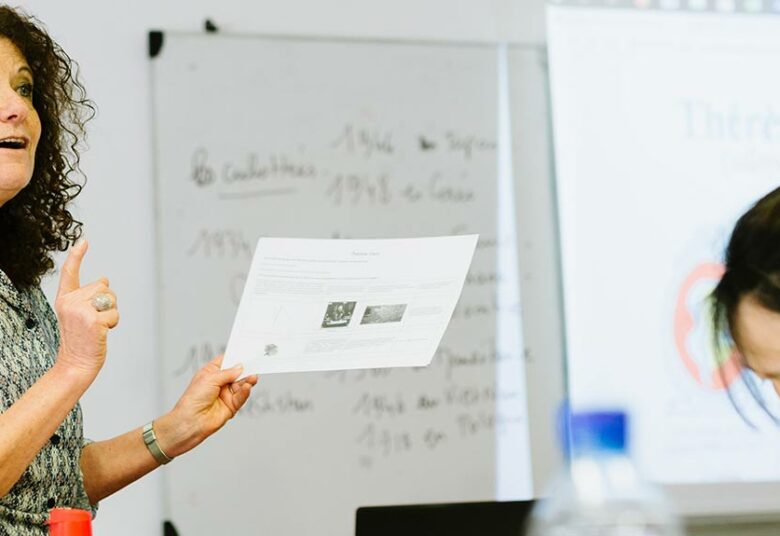 Innovative teaching techniques,
for sustainable progress using the latest technologies (multimedia language lab, digital workspace…), focus on, and immersion in, the Arts and Live Shows, in collaboration with well-known cultural institutions.
Recognised diplomas
The ILCF has been an official examination centre for over 30 years. The fact that ILCF Lyon has such a centre is a real advantage: our teaching staff includes official French Language examiners and exam markers who will do their best to prepare you for the exams and ensure you are successful.
ILCF Lyon offers special preparation courses for Official Diplomas to equip you with the required methodology, through mock exams and simulated oral exams.
Certify your skills in the French Language and culture through diplomas that are recognised both in France and abroad:
University Diplomas :
University Diplomas in French Studies (DUEF) and Certificates of French Language and Culture (CLCF), from level A1 to level C1 of the Common European Framework of Reference for Languages (CEFRL).
DUEF qualifications are recognised by the association of directors of university centres for the teaching of French to foreigners (ADCUEFE) of which ILCF Lyon is a member. All 35 French universities agree to recognise the reciprocal validity of their DUEF qualifications. From DUEF B2 and upwards, these diplomas can provide access to French universities under certain conditions.
Diplomas issued by the French Ministry of Education :
DELF, DALF :

Official French diplomas certifying your skills in general and professional French.
Diplomas issued by the Chamber of Commerce and Industry of Paris:
DFP Business B2, DFP Business C1, DFP Tourism and Hotel Management B1
Official specialised language diplomas: French for business, French for Tourism and Hotel Management
University Credits
If you are studying at a foreign university, ILCF Lyon can provide you with a detailed statement of the results (credits and units of value) you achieved at the ILCF or at one of the Faculties that are part of the Lyon Catholic University (depending on additional courses taken). Course credits correspond to the ECTS (European Credit Transfer System). You are entitled to continue your studies at a university in France.